358 Acre
La Brisa Ranch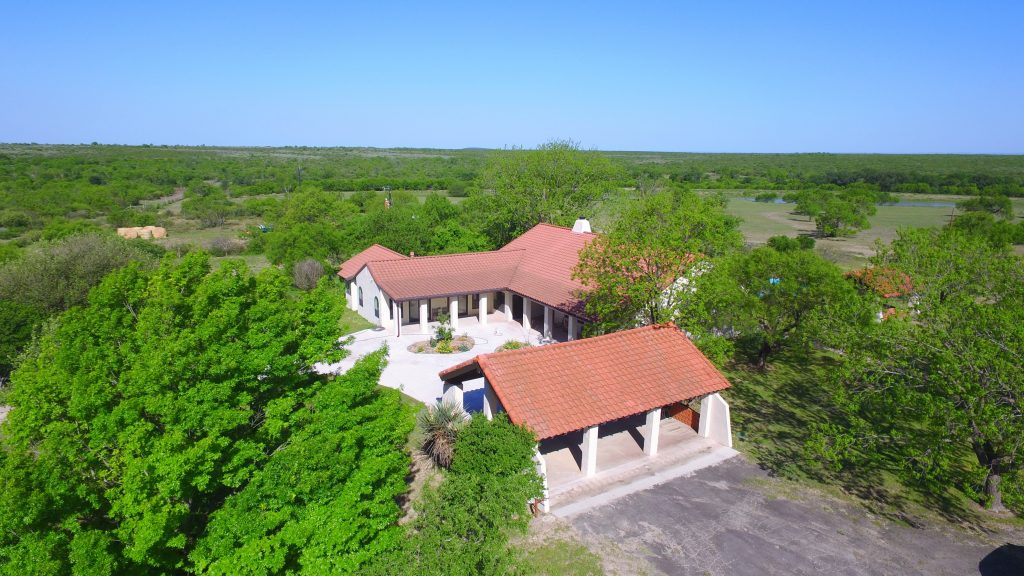 ACREAGE:  358.2 acres, more or less.
LOCATION:  824 PR 6100, D'Hanis, Texas 78850.  Property is located approximately 20 miles SW of Hondo or 8.5 miles S of Hwy. 90 off of CR 520 (Squirrel Creek Road).  All in Medina County, Texas.
PRICE:  $1,675,000.00.  Reduced to $1,575,000.00.
TERMS:  Cash to Seller and/or third party financing.
4SCHOOL:  D'Hanis I.S.D.
TAXES:  Property is under Agricultural Use Exemption.  2015 taxes were approximately $3,498.34.
MINERALS:  Any and all minerals rights owned will be conveyed including executive rights.  To be more accurately determined by new title commitment.
WATER:  There is one Edwards water well that is approximately 1,100' in depth.  The well has a 6" steel casing with a 25 GPM, 5HP submersible pump set at 480'.  Piping is 2" galvanized and there are two 119 gallon pressure tanks.  Water is piped to all homes, roping arena, the corral trough, and to one tank by a constant pressure booster pump from the reservoir.  There are also two earthen tanks and approximately 1,344' of the West Squirrel Creek.
TERRAIN/GRASSES:  The terrain is flat to gently rolling with elevations ranging from 850'-900'.
VEGETATION:  Vegetation consists of huisache, guajillo, guayacan and has Mesquite, Live Oaks and some Cedar Elm.  There is approximately 60-80 acres of open field land that is in improved grasses consisting of Tifton 85 Bermuda grass and Klein grass as well as others native to the area such as Blue Grama, Buffalo grass and Curly Mesquite.
WILDLIFE: Native game includes whitetail deer, turkey, quail, dove and hogs.  The West Squirrel Creek and earthen tanks provide excellent habitat, food and water for water fowl as well.
IMPROVEMENTS:  The ranch has standard height barbed wire fencing and is partially high fenced on the west boundary.  Property is cross fenced into four pastures with excellent interior roads that traverse the property with some being paved.  There are also many nice structural improvements including: MAIN HOME:  Beautiful Spanish-style 3BR/4B home consisting of approximately 3,823 sq. ft. of living area.  There is a modern kitchen, dining area, two spacious living areas, each with their own fireplace that looks out over the swimming pool and outdoor entertainment area.  The flooring is Saltillo tile, berber and low pile carpeting with the floor plan laid out comfortably allowing for a perfect entertainment and relaxed environment on the ranch.  The exterior of the home is stucco and timber with the roof being Spanish style clay tile.  The home is situated overlooking a custom built in-ground swimming pool with hot tub and is completely surrounded by tile patios, 3-car carport,  and sprinkler irrigated manicured yard.  GUEST HOME:  Very nice 2BR/2B guest home consisting of approximately 1,056 ft. of living area.  This is a cozy, rustic ranch home on pier and beam with hardi-plank siding, metal roof, window A/C units and its own septic system.  There is a comfortable living area, kitchen, and tile and carpeted flooring.  The porch extends along the entire front of the home overlooking a well manicured and fenced yard that surrounds the home. FOREMAN'S HOME:  A nice 12'x38' 1BR/1B home on a concrete slab with hardi-plank siding, metal roof and A/C window units.Aside from the three homes, there is a small wooden smokehouse; 3-sided, approximately 21'x61' (or 1,281 sq.ft.) metal hay barn with 4 bays and concrete floors; a 12'x52', 4 stall horse barn with concrete floors, water and electricity; a workshop/storage/cantina with concrete floors, electricity and water.  The cantina is set up for entertaining along with a restroom and tack room; a very nice pipe roping arena; cleared grass landing strip; and a set of pipe corrals with gates, chute and water trough.
REMARKS:  This is a highly improved cattle/hunting/recreational ranch that offers a diverse mix of improved field land and South Texas brush which creates a fantastic habitat for cattle and wildlife.  This is truly a South Texas destination ranch ready for the rancher or outdoor enthusiast with a convenient location only 1 hour and 15 minutes from the San Antonio International Airport!
Contact Kyle Heyen @ 210-912-6007 for more information or to set up a viewing