155 Acres
NEWEST DEER PHOTOS:  Taken August 2017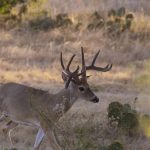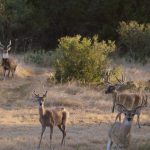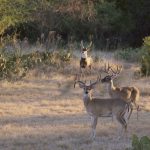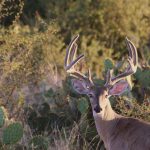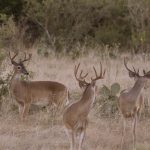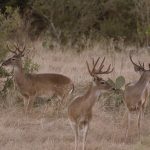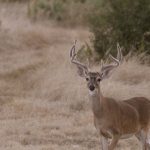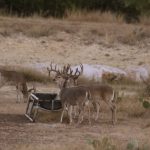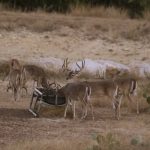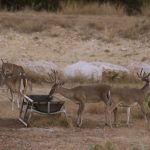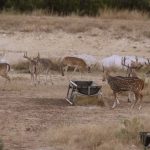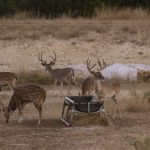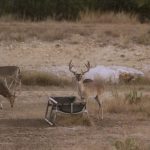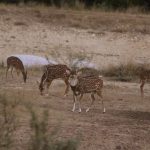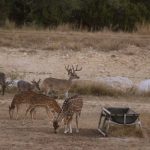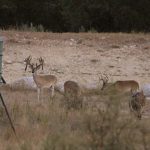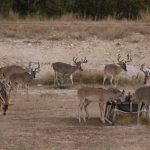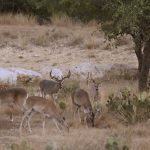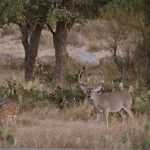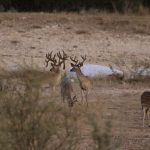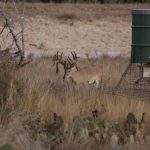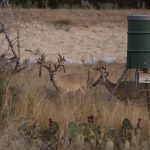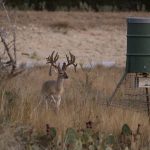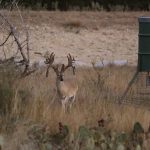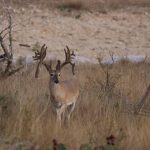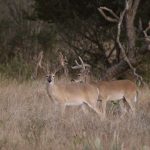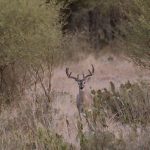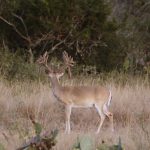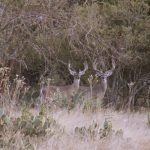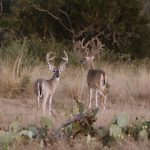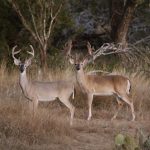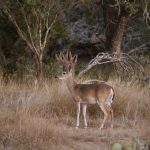 Comanche Hill Ranch
ACREAGE:  155.20 acres, more or less.
LOCATION:  10895 Hwy. 187 North, Sabinal, Texas 78881.  Property is located approximately 25 miles NE of Uvalde, 11 miles S of Utopia and 30 miles NW of Hondo with approximately 2,920' of frontage on Hwy. 187 North.  All in Uvalde County, Texas.
PRICE:   $2,200,000.00.  Reduced to $1,950,000.00. NEW VALUE PRICE REDUCTION @ $1,600,000.00!!

TERMS:   Cash to Seller and/or third party financing.
SCHOOL:   Sabinal ISD.
TAXES:   Approximately 152 acres are under a Wildlife Management Exemption.  2015 taxes were approximately $6,814.39.
MINERALS:   Any and all mineral and executive rights owned to convey.  To be more accurately determined by new title commitment.
UTILITIES:  Medina Electric CoOp is the electric provider.  There is also a wind turbine that is connected directly to the electric meter that reduces utilities by approximately $50.00 per month.  Southwest Telephone is the phone provider and the home has DSL.  The master bedroom and living room are both wired for satellite.
WATER:  There is one Edwards water well that is approximately 600' in depth with a 6" casing, 3 H.P. pump set at 502' that pumps approximately 20 G.P.M. and static level is 340'.  This Edwards well supplies water to a 9-stage sprinkler system, 2 troughs, the deer pens (via a 1.5" water line) and the pond (via a 2" water line).  It can also supply water to the home.  There is also a Trinity water well drilled approximately 3 years ago that approximately 1,400' in depth with a 6" steel casing, cased to 700', with static level at 400'.  There is no pump or electricity to this well and is currently not in use.  In addition to the two water wells, the main home is supplied by water from a self-sustaining Rain Water Harvest System.  This system is approximately one-year-old and comprised of four 6,000 gallon tanks that are manifolded together and gravity fed then fed to home by a 70 P.S.I. booster pump and filtered by a sock, charcoal then a 1,400 degree UV filtration system.  There is also one pond on the property that is approximately 20' in depth, sealed with 18" of clay and is stocked with Channel Catfish and Bluegill Perch.
TERRAIN/GRASSES/VEGETATION: The terrain is gently rolling with elevations ranging from 1200'-1262'.  The home,  studio, and barn are at 1220' allowing for outstanding views of the surrounding Hill Country.  Vegetation consists of huisache, prickly pear, cat claw and acasia.  Live Oak trees abound the property with a scattering of Cedar and Mesquite.  The property has open pasture with abundant native grasses, good soil, and some dense brush.  There is also a 3-acre, game-proof fenced field that can be planted in oats or winter wheat.  This field contains the Trinity water well offering the ability to irrigate.
WILDLIFE:  Included in the sale of this property is a herd of genetically introduced Whitetail Deer consisting of approximately 80 deer (60 bucks/20 doe).  Bucks range from 180-200 class deer.  In addition, there are 10 Axis deer (8 bucks/2 doe) approximately 2-3 years of age.  Native game includes turkey, dove, and bobcat.  The pond is stocked with Channel Catfish and Bluegill Perch.
IMPROVEMENTS:
MAIN HOME:  This beautiful, custom built ranch-style home consists of approximately 3.313 sq. ft. of living area and has 3 bedrooms and 4 baths.  The home has large, open porches for taking in the breathtaking views; a two-car carport with storage; a breeze-way; and a 3 ½ acre fenced yard with electric gate entrance, gorgeous landscaping and a 9-stage sprinkler system.  The exterior is rock and knotty Pine with a 24-gauge metal roof.  The well-manicured landscaping surrounds the home and can be watered using the rain barrel system.  The back yard offers a great 400 sq. ft. entertainment area with a fire pit, swimming pool with water feature, garden, dog kennel and outdoor kitchen and bar.  Walking into the home, you are welcomed by a state of the art kitchen and great room.  The kitchen has custom built knotty Pine cabinets, double oven, built-in microwave, dishwasher, large corner pantry and a cook-top island.  The tile backsplash (custom cut matching the floor tile) finishes out this gorgeous kitchen!  The interior offers a spacious open floor plan with 19' ceilings in the great room that is perfect for entertaining around a massive rock wall, with plenty of room to showcase your trophy mounts, a wood burning fireplace, wet bar with ice maker and storage for the surround sound system.  For that added cozy feel, a smaller rock wall backdrop and hearth house a fully functional wood burning stove that not only adds aesthetic beauty but can warm the home through cold winter nights.  The floors are 16"x16" tile in the kitchen and great room, 18"x18" tile in the bedrooms and the knotty Pine theme can be found on the ceilings, doors, window trim, and the Wainscoating.  There are 3 large bedrooms with considerable closet space for each one, 4 beautiful bathrooms, with the master consisting of one or two bathrooms with a large walk-in custom tile shower for him and a Jacuzzi tub for her.  The home is all electric, has central air conditioning and heat, has two 80-gallon water heaters and a large utility/laundry room and office that can also be used as a sewing/craft room, along with a 1,000-gallon septic system.
STUDIO:  This is a very nice 24'x40' metal building on a beautiful stained concrete slab.  The studio has a large open feel to it that allows for any wide variety of uses.  On one end of the studio is a kitchenette with knotty Pine cabinets and a ½ bath.  The interior walls are constructed of outdoor barn wood paneling being approximately 10" thick and finished off with knotty Pine trim throughout.  A queen size Murphy bed will also remain.  The studio is cooled and heated with a window A/C & heating unit and a ductless A/C unit.
BARN/APARTMENT (BARNDOMINIUM):  This is a 2,400 sq. ft. metal barn on a concrete slab along with a 3-4 bay covered shed on one end and an apartment on the other.  The apartment consists of approximately 1,080 sq. ft. with 2BR/1B, laundry and utility room, full kitchen, living area, great storage with stained concrete floors throughout.  The interior is sheetrock and has central air conditioning and heating.  The barn also has a large game cleaning room complete with a walk-in cooler, countertops along one wall, an A/C window unit, hot water heater and propane stove for perfecting your recipes!  Just outside the game cleaning area is a rock smokehouse and a portable metal carport for implement storage.  Both studio and apartment are on a 750-gallon septic system.
OTHER IMPROVEMENTS:  There is a beautiful electric, landscaped entrance inviting you onto the ranch as well as an electric gate entrance upon entering the fenced off home and yard.  The perimeter of this ranch is High Tensile Game proof fencing with all pipe and T-posts being set in concrete.  Just south of the property is a gated entrance to an easement that allows another access point to Hwy. 187 North.  This easement is fenced out and the Seller has partial ownership.  The 3-acre field is also game fenced and has two game exits at the corners.  There are two game proof deer pens each consisting of approximately 1.6 acres in size with troughs and one darting blind.
REMARKS: This is a magnificent, turn-key, highly improved hunting and recreational ranch that is conveniently located just north of the intersection of Hwy. 187 and FM 1796. The property has great accessibility with year-round paved road frontage and is situated between Uvalde, Hondo and Utopia in a highly sought-after area of Uvalde County.  Whether you are interested in a hunting operation, permanent residence, corporate retreat, or weekend get-a-way, Comanche Hill Ranch offers the best of the Hill Country!!