1020 18th Street
Historic Downtown Building
(Deep Creek Depot, Inc.)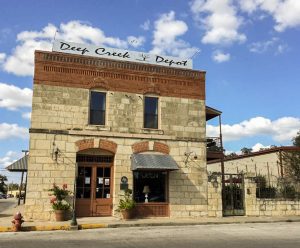 PROPERTY:   1020 18th Street, Hondo, Texas 78861; dba Deep Creek Depot, Inc.
LEGAL:   0.193 acres (8,400 sq. ft.) of land situated within the corporate limits of the City of Hondo, Medina County, Texas being Block 17, Lots 1 & 2, last surveyed in November 2014.
PRICE:   $600,000.00.
TERMS:  Cash to Seller and/or third party financing.
UTILITIES: City of Hondo utilities including water, garbage, sewer, and electricity.  CenterPoint Energy is the gas provider.
TAXES:  2018 estimated taxes are approximately $8,179.13.
DESCRIPTION:  This historic 3,225 (+/-) sq. ft. two-story building was built in 1878 and is one of the oldest buildings in Hondo.  The lower level of the building consists of approximately 1,936 sq. ft. and has a street entrance into what is currently an upscale bar offering quaint charm for that night out.  The rock walls, high ceilings with beaded board wood, a custom bar with granite countertops, spacious table and sofa seating areas and a stage for live entertainment create an inviting atmosphere.  The bar has 2 restrooms, mood lighting, wood features and access to a spacious outdoor patio.  Included with the bar are the stainless-steel sinks, ice storage, two bar coolers along with three mounted TV's for additional sports-night entertaining. Immediately through the double doors to the rear of the bar is a storage area consisting of approximately 312 sq. ft. with shelving and an ice machine as well as a separate smaller room/storage area (believed to be the possible room where Geronimo was jailed)!  Adjoining this store room to the rear is an additional 780 sq. ft. wooden building with more shelving, a stainless steel 3-bay sink, a walk-in cooler, stove and possible kitchen area with hook-ups.
Back in the front portion of the building a beautiful wooden staircase leads you upstairs to a recently renovated vacation rental suite.  This beautiful 2BR/1B, 1,950 sq. ft. space has an open living room, dining room and kitchen.   The kitchen has custom cabinets with granite countertops and bar seating, a cook-top and refrigerator.  This upstairs area also has beautiful hardwood floors, rock and plaster walls, 12' beaded wood ceilings with ceiling fans throughout. French doors off the living area lead to the master suite and seating area.  The spacious second bedroom has a wall of closets and built-ins.  Between the master suite and second bedroom is a dressing alcove with large vanity area complete with seating and large mirrors perfect for wedding and/or rehearsal preparations.  Another extra sleeping area with room for a couple of twin sized beds is just outside of both bedrooms.  The bathroom has a closed off area for a washer and dryer as well as a claw-foot tub/shower combo perfect for relaxing after a long day!  In addition, a balcony allows for outdoor leisure, views of the city, as well as a private second entrance to the upstairs suite.
Below the balcony and off the ground level bar is an approximately 3,225 sq. ft. patio area surrounded by a rock and iron secured privacy wall and gorgeous landscaping.  This patio has scattered metal tables with umbrellas and chairs, overhead lighting and a speaker system providing fantastic entertaining all year long.
In the rear of the property is an approximately 792 sq. ft. three-vehicle enclosed garage with access through an 8' iron gate off of Avenue K.  This  easy access allows for full use of the garage which has rock walls, wood rafters and 3 overhead roll-up doors.  The garage and approximately 1,170 sq. ft. brick patio is currently being utilized as a retail shop specializing in antiques and restored furniture.
REMARKS: Located in downtown Hondo, this historic building and property are turn-key ready for you to continue running in it's current state as an upscale nightlife bar, bed & breakfast or vacation rental suite upstairs or the many other possibilities that await with this unique opportunity!  Note:  Property lies within the FEMA 100-year flood zone.